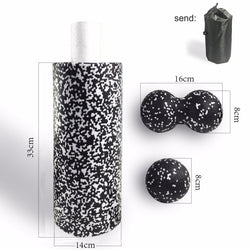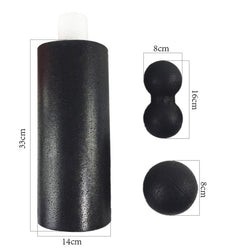 GiftVortex
Foam Roller with Peanut Massage Ball Set
BodyBudd's self-massaging set includes a soft spiky foam roller, a muscle roller stick, a double ball massager (peanut roller), a foot massage ball, and a practical storage bag. That's right, with just one click you will get 5 premium quality therapy massage items.

Why spend a fortune on a massage when you can massage yourself at home whenever you want? These foam roller balls and the other items of the roller massager set can be used to massage your entire body -your back, neck, arms, thighs, calf, and even your feet!

By massaging your body with these specially designed therapy massage balls and sticks, you increase your blood circulation and oxygen flow in your body, so your injured, inflamed and strained muscles will heal and recover faster and in a completely natural way

The practical drawstring bag of the back massage ball set is going to help you store your firm foam roller and foot massage balls away with ease and keep them dust-free. The storage bag will also help carry the back foam roller set around effortlessly.