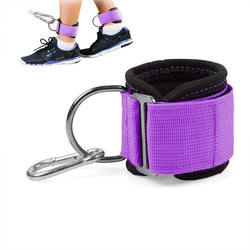 GiftVortex
2 PCS Ankle Straps
Our Ankle Straps allow you to focus on your workouts without any distractions caused by switching cable attachments. Now you can get the body (and booty) you dreamed of without all of the hassles!

We know you want to work out hard, but that doesn't mean you have to suffer from blisters, chafing, and sore ankles. That's why we've added an extra layer of 5mm padding to the inside of each ankle strap. Now you can focus on your form instead of being uncomfortable!

Our glutes kickback straps are perfect for all types of leg shaping and toning exercises. Get your calf muscles, quads, glutes, and hamstrings looking amazing with this essential fitness accessory!